We were recently tagged on Twitter (thank you, @icgj_ideation) with a question about how we organize our work around content for our website. This inspired us to share our story.
At Scrum Alliance, we practice agile beyond the development team with agile marketing, agile HR, and other practices. We work in scrum teams, none of which exclusively manages our content program. Yet, we strive to consistently provide the agile community and Scrum Alliance members with useful content that helps them get to work and get the job done.
We formed a content collaboration group, composed of marketers and educators from each team. We meet weekly to co-work for just an hour to edit, publish, and promote our guide-submitted content, to migrate and update articles, and to turn on-the-spot ideas into useful templates and tools to support agilists around the world.

Scrum Alliance's Agile Content Management Best Practices
Have a self-organized team. Our collaboration group is exactly that: Experts working together to ensure optimal success, with no hierarchy or managers. We focus on taking ownership, partnering up, and communicating clearly.

Optimize each article based on SEO best practices. Our marketers go through each guide-submitted article to optimize them for the web. They make sure to include the right metadata, keywords, and related links before we publish.

Create branded images. No article is complete until it has graphics that represent our brand, including those sized for social media channels.

Meet weekly for alignment and co-working time. "Paired" (or often group) writing and editing makes the process fun, quick, and far more thorough than individual content management. If we need to work outside of our collaboration hour, we put our faces on the content card (using Trello) to guide the process.

Limit Work in Progress (WIP). We limit the number of articles an external contributor can claim in order to keep a manageable amount of work we have to do when the article is ready for us to edit and post to the Resource Library.

Defer to our content management kanban-style board. Scrum Alliance content collaborators created and manage a transparent kanban-style board on Trello (this is a sample template) where even our external contributors can see their article's progress, editor feedback, and published pieces. This contains template cards, style and trademark guides, and guidelines for image submissions.
Related Article: Scrum vs. Kanban

Learnings
It's hard to hold external contributors (and ourselves) to a separate-from-your-other-sprint's work, so we modified our approach to leverage a rolling work space board that our internal content collaboration group co-works on for just an hour each week. For work that takes longer than what our collaboration group can do in our weekly session, team members bring that work into their team backlogs for refinement and prioritization.

Our coaches and trainers are our experts! Our guides community brings an immense amount of experience to the agile world via courses, training, and coaching — their contributions keep our content relevant to the latest and greatest discoveries in real-world agility for scrum masters, product owners, agile coaches, and leadership.
How Scrum Alliance Uses Feedback to Drive Our Content Strategy
As agile marketers, we always strive to inspect and adapt to ensure we are creating content that helps our members and community. We leverage content ideas that come from team feedback systems throughout the organization, from member-exclusive content to surveys and search queries. This includes:
Scrum Alliance certified members enjoy exclusive access to premier content, which also includes a thumbs up (or down) rating feature that helps inform our content creation decisions. This feedback has allowed us to prioritize the types of content and content topics that rank the highest with our members.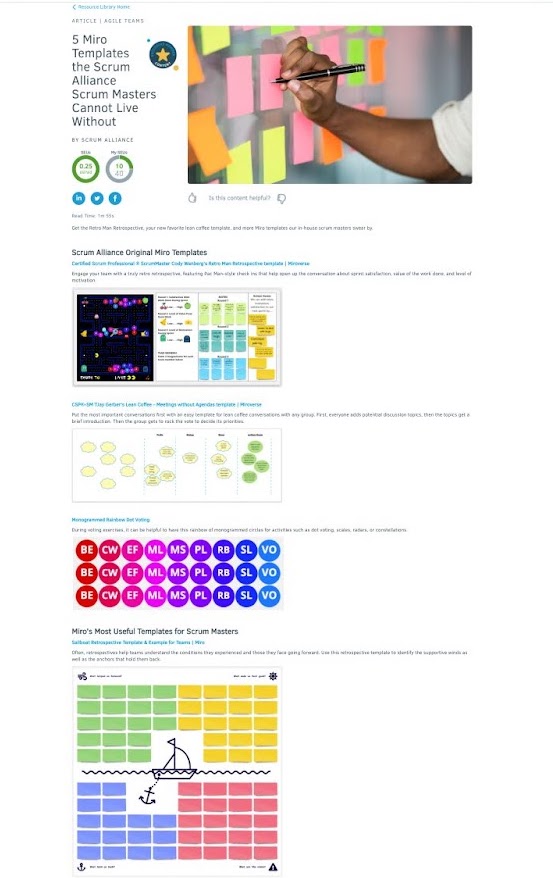 We take agile learning seriously.
Here at Scrum Alliance, we continue to nurture the agile movement by providing education, advocacy, research, community, and connection. We practice agile beyond the development team with agile marketing, agile HR and other practices. Part of our requirements to maintain certification is to earn a certain number of Scrum Education Units (SEUs). Building and maintaining a robust Resource Library empowers our members to read, watch, and absorb proven (and new!) ideas and information.
Are you interested? Start exploring today!