Agile coaching is an evolving profession encompassing many disciplines, including individual, team, and systemic coaching, facilitating, teaching, and mentoring, all applied with an open and deliberate bias towards using agile approaches to help address the client's needs.
What Is the Growth Wheel?
The Agile Coaching Growth Wheel is a tool for agile coaches, scrum masters, leaders, and anyone who wants to get better at helping teams and organizations grow and deliver sustainable value using agile/Lean principles and practices.
Built around a hub of self-mastery, the wheel is made up of eight competency areas that encompass all the skills considered essential for being a successful agile leader.
The growth wheel is an open alliance of coaches from around the globe who believe in the mission of "Professionalizing the world of Agile Coaching." They are doing this through the creation of a common vocabulary and framework around agile, agile coaching, and leadership.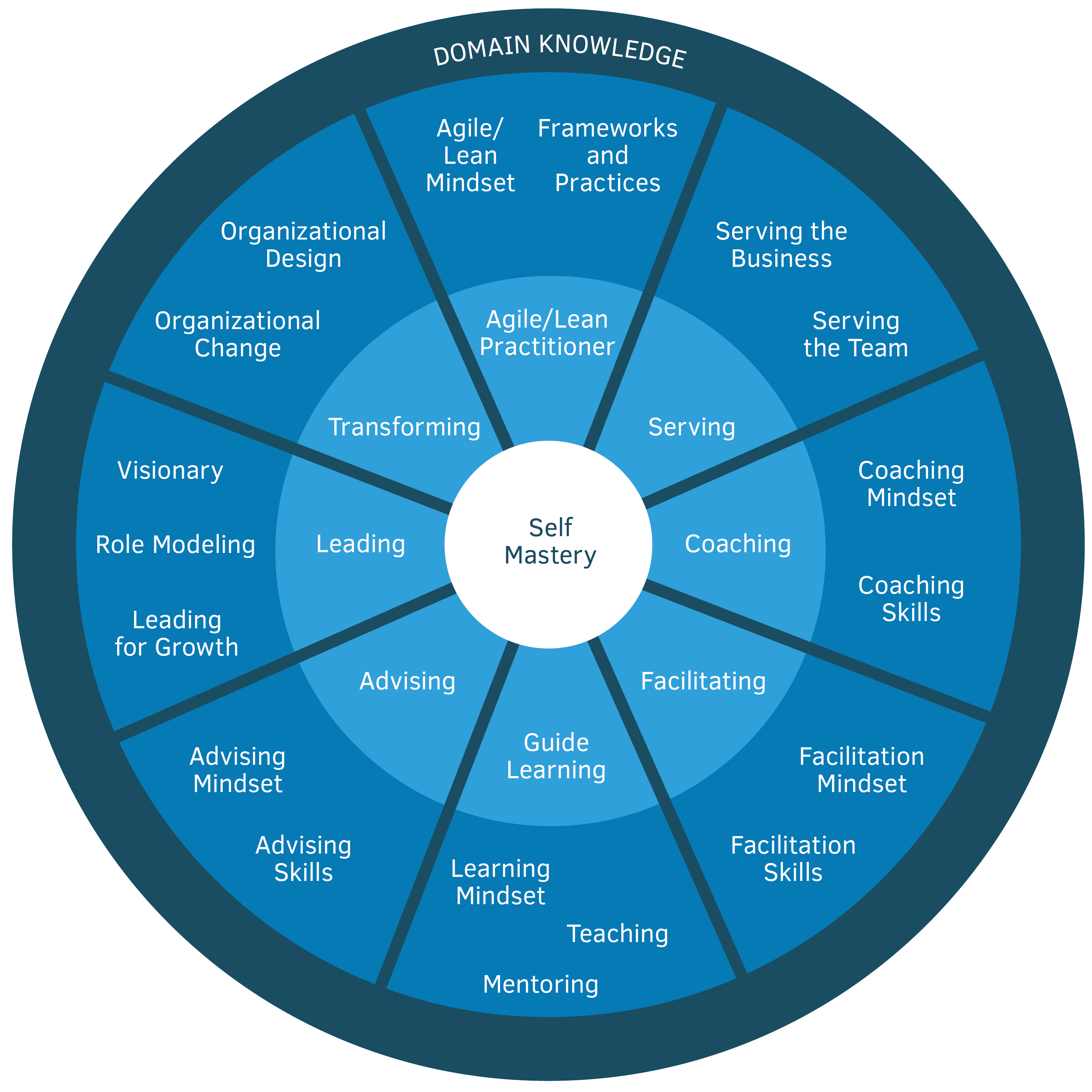 How Does the Growth Wheel Relate to Scrum Alliance?
Scrum Alliance has been a strong supporter of the Agile Coaching Growth Wheel initiative since its earliest inception. Scrum Alliance has a vision of a world where an agile way of working is so universal, it's simply called working. To achieve this vision the world needs inspiring changemakers and leaders.
The Agile Coaching Growth Wheel is the natural evolution of Scrum Alliance CEC Emeritus, Lyssa Adkins' Agile Coaching Competency Model on which many of the learning objectives for the Scrum Alliance's scrum master and product owner certifications are based.
Using the growth wheel as a self-assessment tool can help you to determine what is the next step for you in your scrum learning journey. Do you want to improve your team coaching skills? Then the Advanced Certified ScrumMaster® course may be the right thing for you. The Agile Coaching Skills - Certified Facilitator program was created to help anyone interested in growing their facilitation competency to the next level. In the future, Scrum Alliance expects to pull more inspiration from the growth wheel to provide our members with paths to their desired career goals.
What's New?
May 2023 marks the fourth major update to the growth wheel. In this update, all nine competency areas have been fully fleshed out with five stages of skill progression. The wheel is now fully online with future updates planned to be delivered in shorter increments based on usable increments of value.
How Can You Learn More?
The latest version of the growth wheel can always be found at AgileCoachingGrowthWheel.org. This includes resources for self-assessment and resource links to books and other learning that can help one grow as an agile leader.
And stay tuned here for future updates on how Scrum Alliance plans to leverage the growth wheel as a tool for our members to grow as the inspiring changemakers and leaders that are needed to change the world of work.