Agile coaching is an evolving profession encompassing many disciplines, including individual, team, and systemic coaching, facilitating, teaching, and mentoring, all applied with an open and deliberate bias towards using agile approaches to help address the client's needs.
What is the Growth Wheel?
The Agile Coaching Growth Wheel is a tool for agile coaches, scrum masters, leaders, and anyone who desires to increase their ability to help and grow teams and organizations using agile principles and practices. The wheel allows you to reflect and grow on your agile journey. This tool is also best used with another coach to help support them.
The wheel has eight segments or spokes, representing eight competency skills areas built around a hub of self-mastery. The tread around the outside of the wheel represents your domain knowledge. These are knowledge areas that in turn support the skills of the main competency areas.
Download the Growth Wheel PDF Download the Self-Assessment Powerpoint View the Self-Assessment Google Slides
Why Create This Wheel?
The History Behind Professionalizing Agile Coaching
At the 2018 Agile Coaching Retreat in London, a collection of coaches came together to tackle the question "what are the skills needed to successfully coach teams and organizations in Agile?"
As the use of agile has become more mainstream the foundational definition of good agile coaching skills has remained loosely defined and this lack of definition has resulted in unqualified people presenting themselves as agile coaches with little experience and low competence. This creates something of a lottery for organizations choosing the right people with the right skills for their needs.
The London retreat created the first generation of the Agile Coaching Growth Wheel, as an effort to address these questions and challenges.
In 2020, Bob Galen wrote Agile Coaches Need More Than Coaching Skills, which sparked a renewed conversation around what skills are essential to the craft of agile coaching. His blog was an implicit challenge to everyone in the agile coaching community to think about how we were presenting ourselves, growing ourselves, and helping the next generation of agilist to be the best they could be.
Partly in response to Bob's article, in the spring of 2021, the Scrum Alliance hosted an Open Space with the question of "what competencies are needed for a successful agile coach?" The outcome of the Open Space was the formation of a working group whose goal was to "Professionalize the World of Agile Coaching."
Using the 2018 Agile Coaching Growth Wheel as a start they refined it to what you see above today. Our goal is that the Agile Coaching Growth Wheel lays down the core competencies that allow an agile practitioner to go from good to great through a reflective process with clear measures to assess their progress.
Related: The 2022 State of Agile Coaching Report
Where We Came From, On the Shoulders of Giants
In 2011, Lyssa Atkins and Michael Spayd created a competency framework for agile coaches. Intentionally, this was not a competency model, as it did not define specific behaviors, skills, knowledge, or proficiency levels. The "X-Wing" model, as it is commonly known, is built around the idea of mastery areas and a personal coaching stance to act as a guiding star when choosing which of four skills to use: coaching, mentoring, facilitating, and teaching.
For over a decade the Adkins/Spayd model has been the gold standard for defining the skills and competencies of scrum masters and agile coaches. It was the logical place to start from when the 2018 London coaches sought to take it to the next level.
We can't thank Lyssa or Michael enough for the work they have done to professionalize the world of agile coaching. They have been a constant source of inspiration to all of the volunteers that have worked on this project.
Recognizing this solid foundation, the contributors of this work believe that more definition is required to further professionalize the world of agile coaching and the result is the Agile Coaching Growth Wheel initiative.
Where Are We Going?
Defining the agile coaching journey will allow educators, coaches, and leaders to better support the growth of agile coaching competencies in individuals by developing learning and development programs and aligning competencies to the formal agile coaching certifications that already exist. It will also build confidence in the industry around the future profession of any job roles that involve the use of agile coaching skills. We are making it easier for an agile organization to select the right person for the right job with confidence.
The next step is to complete the Agile Growth Wheel with all nine competencies fully defined and aligned to the skill progression path. Once this is complete the intent is to build out resources that will guide a learner to developing specific competencies to the level they need or desire.
The Scrum Alliance has committed to using the final Growth Wheel as a foundation for updating its coaching certifications. It is hoped that other agile and scrum bodies will recognize the wheel as a new standard in agile coaching and the entire community can step towards professionalizing the world of agile coaching.
The Nine Core Skill Competencies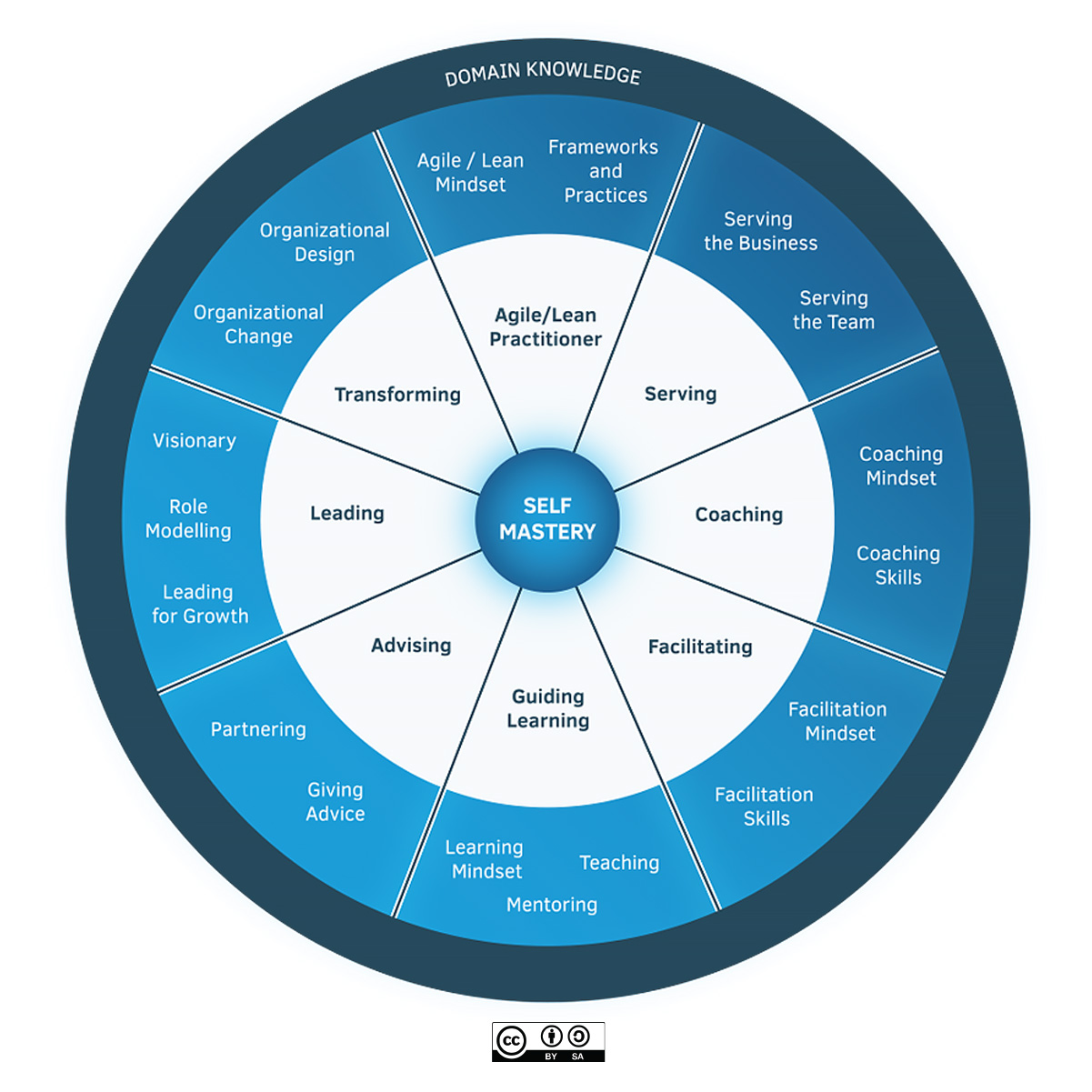 View Larger Image
Self Mastery: At the heart of great agile coaching is the need to invest in yourself through learning and reflection and take care of your wellbeing. Self-mastery starts with a focus on yourself, having the emotional, social, and relationship intelligence to choose how you show up in any given context.

Agile/Lean Practitioner: an agile/lean practitioner has a deep and tacit understanding of the principles behind agile and lean and has experience in working with frameworks and practices of agile and lean.

Serving: serving is about being concerned with the needs of the team or business over your own agenda. They do this from the stance of servant leadership which focuses primarily on the growth and well-being of the team or business and the communities to which they belong.

Coaching: coaching is partnering with a person, team, or organization (client) in a creative process to help the client to reach their goals by unlocking their own potential and understanding. A coach is able to accept the client as a whole and capable, and serve their agenda ethically.

Facilitating: facilitating increases the effectiveness of a group of people to align in a collaborative way, to interpret their context, and mutually identify the most valuable outcomes desired. A facilitator has the skills to create a neutral environment of openness, safety, and innovation in a group setting.

Guide Learning: guide learning is about effectively growing an individual, a group, or a team's skills and enabling them to be competent and resourceful. With this competency, you choose the most effective learning method to help the learner achieve their learning objectives and inspire future learning.

Advising: advising is the ability to bring your experience, insights, and observations to guide the client towards a shared understanding of the value that can help them to achieve sustainable success, even after you have moved on. As a trusted adviser, you are invested in the success of the client, creating a long-term and sustaining relationship with the client.

Leading: leading is about being the change you want to see to make the world a better place. As a leader, you are capable of catalyzing growth and inspiring others to realize the shared vision.

Transforming: transforming is guiding sustainable change that will allow the individual teams and the organization to be more effective and learn how to change for themselves through leading, facilitation, coaching, facilitating learning, and advising.
Measuring Your Competency
Skill in a competency area is not a simple binary. Skill mastery is a progression from no knowledge to unconscious mastery. The Agile Coaching Growth Wheel has five growth levels based on the Dreyfus Model of Skill Acquisition.
Skill Level Definitions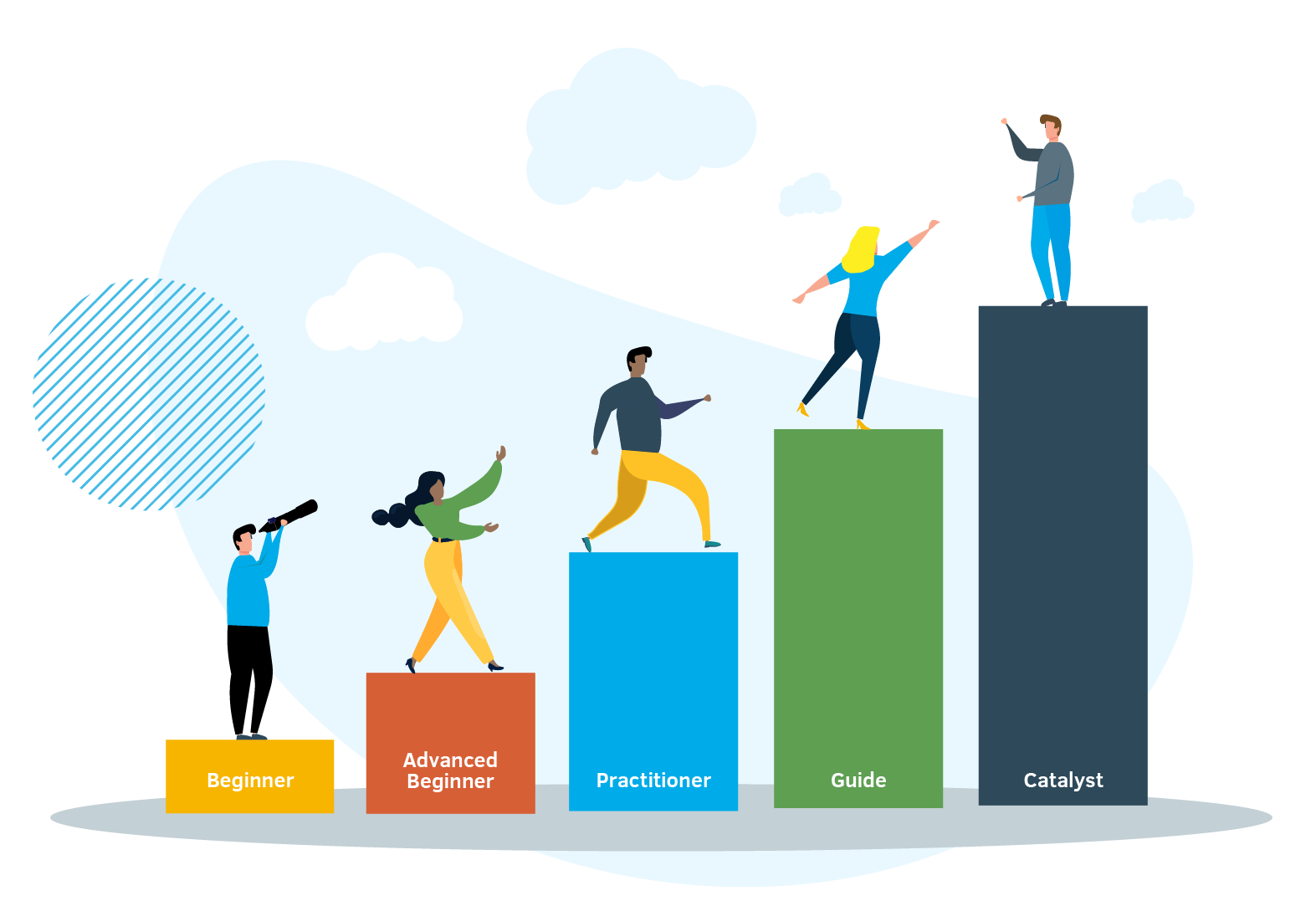 Beginner
A beginner in the use of agile coaching practices has only textbook knowledge with no practical experience. The beginner will typically adhere closely to defined rules or plans and work closely with a more experienced individual. An individual who focuses on learning and is given a chance to practice will generally advance to higher levels of competency in a short time.
A beginner typically begins to develop the competency by working with a single team and with the support of a more experienced coach or mentor (especially if the single team is part of a larger whole). A beginner with agile coaching practices moves to the advanced beginner level by showing comprehension of the competencies in the Agile Coaching Growth Wheel, trying to work on their own, taking on a larger task, repeating results, and showing the desire to learn more context.
Advanced Beginner
An advanced beginner, in agile coaching practices, has practical experience in the application of the Agile Coaching Growth Wheel competencies. At this level, an individual will be able to interpret and apply straightforward techniques with minimal support from a more experienced coach or mentor and be able to pair to undertake more complex tasks.
While an advanced beginner will be capable of identifying complex issues, they will generally only have a limited ability to resolve them. At this level, someone using agile coaching practice will typically have difficulty determining which aspects are of greatest importance in a particular situation.
Practitioner
A practitioner can demonstrate working knowledge of all aspects of the Agile Coaching Growth Wheel. An agile coaching practitioner will be able to analyze and differentiate various solutions to apply in their work without close supervision and possess the planning skills required to enable them to deal with complex issues or resolve conflicting priorities. At this level, the practitioner should be capable of using repeatable procedures to produce acceptable results and be able to plan towards longer-term goals.
Guide
At the guide level, the individual has in-depth knowledge of the Agile Coaching Growth Wheel competencies. They will be able to synthesize coaching solutions from the existing bodies of knowledge within agile/lean and beyond, and tailor them to specific instances in all, save the most complex or exceptional of situations, and can effectively guide the work of others.
An agile coaching guide will usually be able to intuitively assess the best course of action to take in a given situation and understand how and when to apply guidelines.
Catalyst
A catalyst has a deep tacit understanding of the Agile Growth Wheel competencies. This individual will be able to modify or alter standards and develop new and innovative approaches to deal with unusual situations. A Catalyst will be able to easily produce high-quality results and be able to develop a vision of what is possible.
We Want to Hear Your Feedback
The creation of the Growth Wheel is an interactive process of inspecting and adaptation. We are committed to further developing the Growth Wheel and need your feedback to make the tool better and more usable. After taking your self-assessment and deep dive into the Serving the Business competency, we'd appreciate any feedback we can share with our volunteer team.
Acknowledgments
2021 Core Working Group Version 3.0:



| | |
| --- | --- |
| Mark Summers | John Barratt |
| Joshua Tasker | Maria Thompson |
| Mark Spitzer | Mauricio Robles |
| Miloš Zeković | Rickard Jones |
| Joel Bancroft-Connors | Kseniya Kreyman |
| Martin Lambert | |
Additional Contributors to the 2019 Version 2.0 Update:
| | |
| --- | --- |
| John Barratt | Zia Malik |
| Helen Meek | |
London Scrum Coaching Retreat in 2018 Team:



| | |
| --- | --- |
| Shannon Carter | Martin Lambert |
| Rohit Ratan | Stacey Louie |
| Tom Reynolds | Andre Rubin |
| Kubair Shirazee | Mark Summers |
| Rickard Jones | |
Additional Contributors:
Thanks to other reviewers who are numerous, some anonymous. Contributors who we know and can thank explicitly include:
| | |
| --- | --- |
| Bob Galen | Dean Bryan |
| Tim Robinson | Andy Spence |
| Christian Malik | Simon Lawrence |
| Angel Diaz-Marato | Anu Smalley |
| Brock Argue | Chris Willis |
| Andy Dam | Bojan Smudja |
| Elena Aminova | Emilia Breton-Lake |
| Frederik Vannieuwenhuyse | Ilja Preuß |
| Ivo Peksen | Kamal Tejnani |
| Karen Britten | Kyle Yeo |
| Marcelo Lopez | Samantha Sieverling |
| Stefano Leli | Teddy Carroll |
| Zeshan Ilyas | |
If you are not listed here but have given feedback, a big thanks, let us know and we will add you to the acknowledgments.
References
Developing Great Agile Coaches, by Lyssa Adkins and Michael Spayd: https://www.agil8.com/wp-content/uploads/2018/09/Agile-Coaching-Competencies-whitepaper-part-one.pdf

Scrum Alliance Learning Objectives for Path to Certified Scrum Professional®: CSP-SM, CSP-PO

ICAgile Coaching Path: https://icagile.com/agile-delivery/agile-coaching

ICAgile Facilitation Learning Objectives: https://icagile.com/media/pdfs/learning-outcomes/agile-team-facilitation-learning-outcomes.pdf

ICAgile Coaching Learning Objectives: https://icagile.com/media/pdfs/learning-outcomes/agile-coaching-learning-outcomes.pdf

International Coaching Federation: https://coachingfederation.org/about

Acker, Marsha.The Art & Science of Facilitation: How to Lead Effective Collaboration with Agile Teams. TeamCatapult Press, 2020.

Greenleaf, R. (2002). Servant Leadership 25th Anniversary Addition: A journey into the Nature of Legitimate Power & Greatness.

Hackman, Richard. Collaborative Intelligence: Using Teams to Solve Hard Problems. Berrett-Koehler Publishers, 2011.

Leon, Anjali. Principles of Agile Leaderships - source: https://www.ppl-coach.com/post/principles-of-agile-leadership. 2020.

Turner, Cara. "What is Agile Facilitation?" - source: https://facilitatingagility.com/2012/03/05/what-is-agile-facilitation/. 2012.

Whitmore, J. (1992). Coaching for performance. London: Nicholas Brealey.

Attribution-ShareAlike 4.0 International (CC BY-SA 4.0)