Hear from Chief Product Owner Howard Sublett and Chief ScrumMaster Melissa Boggs as they talk about how things are going after the first sprint review in our newly formed teams.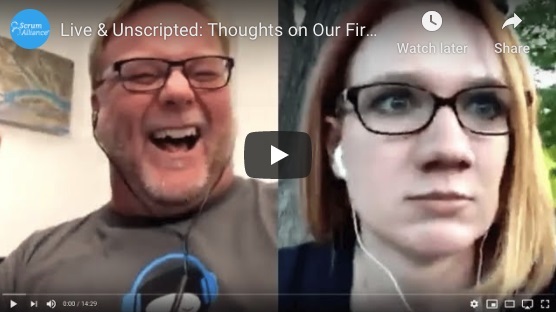 Highlights
Want to get caught up on Scrum Alliance but don't have time for the whole video? We've identified some timestamps where you can check out short highlights:
The Magic of Global Scrum Gatherings. 1:58 - 2:35
New Org Structure. "We now have six community-focused, cross-functional teams. Each team has elements of marketing, IT, education, support, and membership and is focused on a particular segment of our community. Each team is equipped to deliver for their community. We no longer have any departments." 5:39 - 8:06
First Sprint Review in Review. 8:09 - 8:56
Words of the Day: Patience, Grace, Bold. 10:50 - 11:30
Agility Is One Piece of a Larger Vision: "You're not agile for the sake of being agile." 11:53 - 12:45

Enjoy!
RL_57_live-on-location-thoughts-on-our-first-sprint-review