23 July 2019
In this live and unscripted video episode, Howard Sublett and Melissa Boggs discuss about life as co-leaders of Scrum Alliance.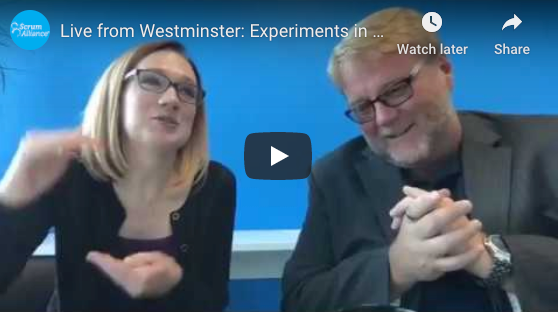 Here are a few of the highlights:

Radically Different Hiring Event
We recently hired some new ScrumMasters and product owners for our newly formed, cross-functional, community centric teams. The event followed Menlo Innovations ideas around eXtreme interviewing.

We brought all the candidates in at the same time and had them work together to "make each other look good," as Melissa says. "We were looking for kindergarten skills. Can they care, can they share?"

Watch from 1:09 - 7:00 and learn all about it.

Challenges of Co-Leading
Melissa and Howard are pair leading Scrum Alliance. They haven't had any big arguments yet, but they have had some challenges in merging their two different styles. Hear the story of a time when their needs clashed and they had to rapidly find a way to get on the same page.

"It put me in an awkward position," says Howard.

"I was mad," says Melissa.

Fast forward to 8:57 for all of the details..
RL_54_live-from-westminster-with-howard-and-melissa