The Global Scrum Gathering in Portland, OR, is happening May 7-10, 2023! Here are seven can't-miss features of this event:
1. Empowering Social Connections and Inspiring People
Having a passion for agile ways of working can be so much more enriching when you plug into a community of people who are just as excited to change the world as you are. Especially if you work somewhere agility isn't embraced company-wide, you may feel alone in your belief that there's a better, human-focused way to work. Global Scrum Gatherings are the place to reunite and make new friends who inspire you:
Get started on the right foot at the Welcome Reception. Come to the conference center on Sunday evening to register early and enjoy drinks and snacks! We'll be there to orient you and answer your questions.
Dig into the agile nitty-gritty at the Oregon Conference Center. The impromptu interactions at coffee carts, dining rooms, and lounges spark some of the most interesting conversations of a Global Gathering. We can come up with great ideas and form new connections when we're all in one place together.
Celebrate the changemaker community at the in-person Monday Mingle. Monday Mingle is all about fun, food, and entertainment. We're taking over the World Forestry Center in Portland's Washington Park and turning it into a party! Round-trip transportation is provided.
Connect to resources at the Tuesday Sponsor Reception. Enjoy a drink and appetizers at the Tuesday night sponsor's reception. Meet the sponsors and find out how they're supporting, hiring, and equipping changemakers across the globe.
Check out one attendee's experience of connection and camaraderie as a Magical Human on the Scrum Squad for Global Scrum Gathering 2022 Lisbon + Beyond.
Don't worry virtual folks. We've got you covered. You'll have dedicated networking time to get to know other agilists, as well as Q&A with speakers. That's in addition to the pre-recorded and live-streamed sessions.
2. Grow Your Mind and Your Skills in Expert-Led Speaker Sessions
GSGPDX23 features more than 60 educational, informative, and mind-expanding sessions presented by experienced agile practitioners. The format is up to each presenter, but many feature immersive engagement and ready-to-use approaches you can bring back to work. You'll have the opportunity to get your questions answered and discuss ideas with fellow participants.
Certain sessions are in person in Portland, while others are also live-streamed or pre-recorded.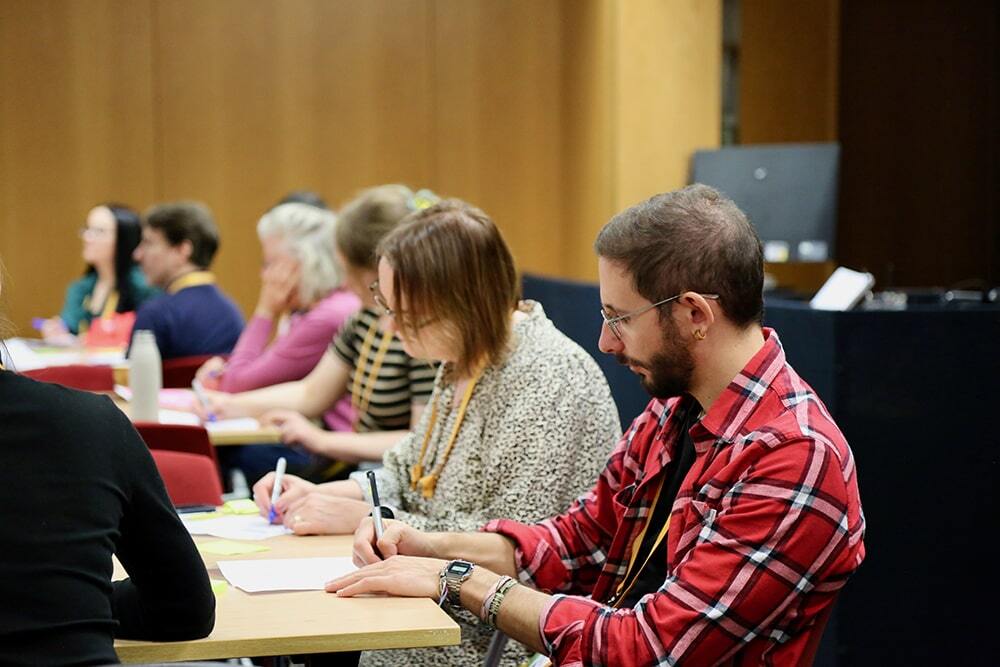 3. Tools, Connections, & Support to Power Your Agile Journey
While there are so many people pursuing the transformative possibilities of agility, that doesn't mean we're all headed to the same destination or reaching the same conclusions. There's no end state at which you realize, "I'm just agile enough." We're all on journeys to apply agile to our lives and make the world of work a better place. But like any complex endeavor, an agile journey is supported by the mentors, friends, resources, and tools you acquire along the way. At the Gathering, you can bet on building those connections and resources so that you have the most impact as an agilist driven to create real change in the world.
4. Gather With a Smaller Carbon Footprint
The Oregon Convention Center is on a mission to be the most sustainable convention center in the world. It's part of the reason we chose them for GSGPDX23. Sustainability highlights include:
LEED Platinum® certification, the highest from the U.S. Green Building Council
Goal to reach 80% waste diversion
Recycling and composting
Water bottle filling stations
Close to local public transportation
Certain unsustainable materials cannot be brought into the building by the event organizers and the exhibitors (single-use plastic bags, foam-core signs, helium balloons)
100% of their bathroom fixtures have been upgraded for water efficiency
80% of light fixtures have been upgraded for efficiency
4 electric vehicle charging stations
OCC has the largest non-power plant solar array in Oregon
25% of the OCC's electricity is produced by solar power
OCC saves an estimated 1,221,180 gallons of water annually
As we well know, sometimes incremental steps are the best way to make progress, and it's no different when it comes to mitigating our consumption and carbon footprint. Sustainable event practices can have a big impact on the health of communities, cleaner air, and less garbage in the oceans and landfills.
In addition to all OCC has to offer in the way of a more sustainable event, Scrum Alliance is committed to less wasteful practices, including digital registration and a mobile app for event communication instead of paper agendas or brochures.
5. Get One-on-One Coaching From an Experienced Coach
Schedule time to meet with an experienced agile coach one-on-one. At the Coaches Clinic®, you can discuss current obstacles to agile in your life, becoming an agile coach, and more. It's a great opportunity to get face time with agile professionals who have led transformations and guided teams, leaders, and individuals to work more adaptively, flexibly, and by valuing people before process. They've been where you are, and they know a thing or two about making progress on a journey to become more agile.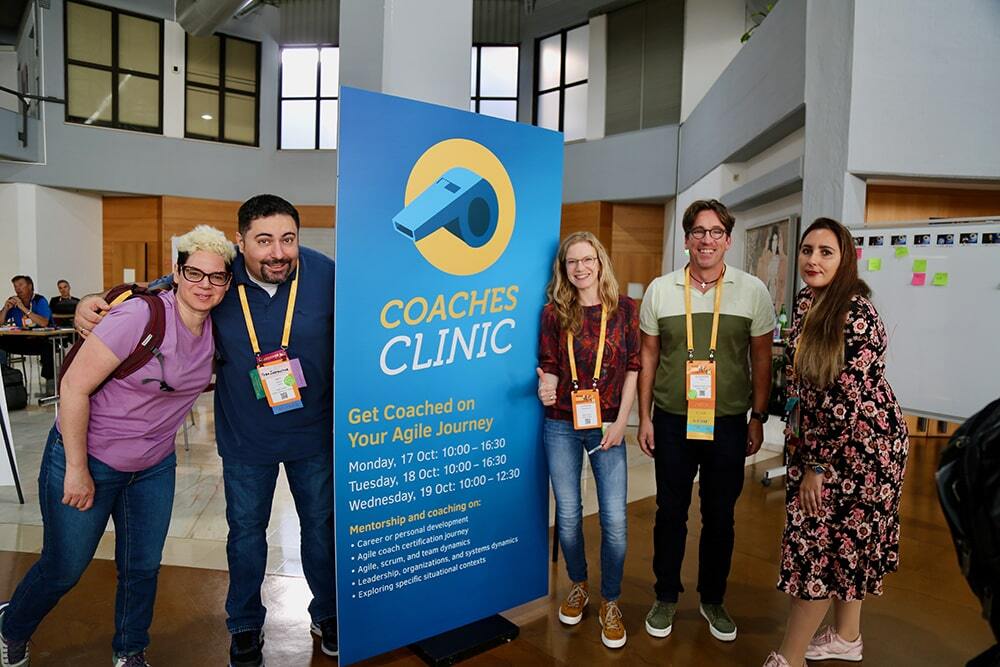 6. Attend In Person or From Anywhere Virtually
While we hope you can join fellow changemakers in Portland, we're also excited to offer a virtual ticket option for GSGPDX23. You'll have access to live-streamed and pre-recorded speaker sessions, keynote speeches streamed live from the Oregon Convention Center, Q&A with speakers, and more. You'll also have access to recorded sessions and keynotes for at least 30 days, commencing shortly after the event ends.
7. Open Space in Portland
Open Space is a participant-led portion of the event for those who join us in Portland. You and other attendees will propose your own sessions and create your own program for the day. These sessions will run parallel to the full program of GSGPDX23. It's a great way to create personalized, real-world value and engage directly with fellow agilists working to drive change every day. Check out the Open Space at Global Gathering 2022 Lisbon + Beyond to get an idea of what to expect.
BONUS: Earn SEUs for Attending
If you hold a Scrum Alliance certification, you'll get 24 Scrum Education Units for attending GSGPDX23 virtually or in person. If you're a member, you know that earning SEUs is part of what's required to renew certification(s) and pivotal to your continued agile journey, so enjoy a packed event agenda and get SEUs for all that transformative learning.
Scrum Alliance believes in lifelong learning. We require SEUs as part of renewal because we want our members to be the most competitive and knowledgeable in their industries and careers. Every SEU you earn demonstrates your commitment to a growth mindset and staying plugged in to the latest agile practices.
Get Your Ticket
Join other agilists and scrum practitioners as we share the wins, challenges, joys, and possibilities of our journeys to transform the world of work for the better. Register today for the Global Scrum Gathering 2023 Portland + Beyond. In-person and virtual tickets are available.