More and more, companies are realizing that there's a better way to work and are turning to agile frameworks like Scrum to help them adapt and evolve more quickly. Maybe that's why recent reports show that agile roles (Scrum Master, Product Owner, and Agile Coach) are so in-demand.
Scrum Master Certification Most Requested for 2020
According to Indeed.com, Scrum Master certifications, especially the gold standard Certified ScrumMaster®, were the 9th most-requested certification this year. CSM was the only agile certification to make the Top 20. CSM® even beat out the PMP, which as the only other certification in the product and project management space to make the Top 20, came in at number 13.
Scrum Alliance Chief Product Owner, Howard Sublett, isn't surprised to see Scrum Master certification at the top of the Indeed.com list. "CSM set the gold-standard for Scrum certification back in 2001. When I searched CSM on Indeed.com last week, it returned over 10,000 current job listings."
Certified ScrumMasters agree. In a recent survey conducted by Indeed.com, 95% of CSMs say they'd recommend the certification to a friend. 71% say they took the course to help their career progression. As a job for the future, Certified ScrumMaster, is the certification to earn if you want to help coach teams to be more adept at responding to change and adapting to complex and shifting needs.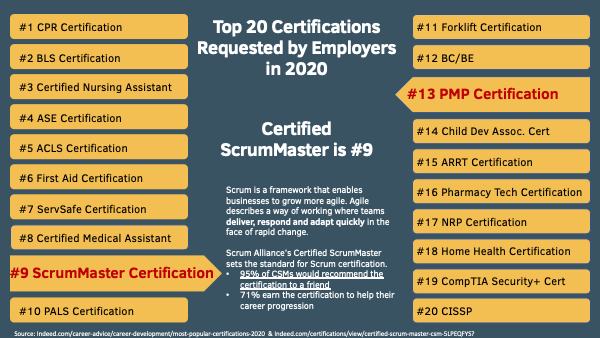 Three Agile Roles Make World Economic Forum Top 10
The World Economic Forum's Jobs of Tomorrow: Mapping Opportunity in the New Economy is a report on the jobs and skillsets needed in the emerging new global workplace. According to the report, for 2020 product owner is the #1 profession in product development. Agile coach came in at #3. Scrum Master tied for #6. You can see the full list in the image below.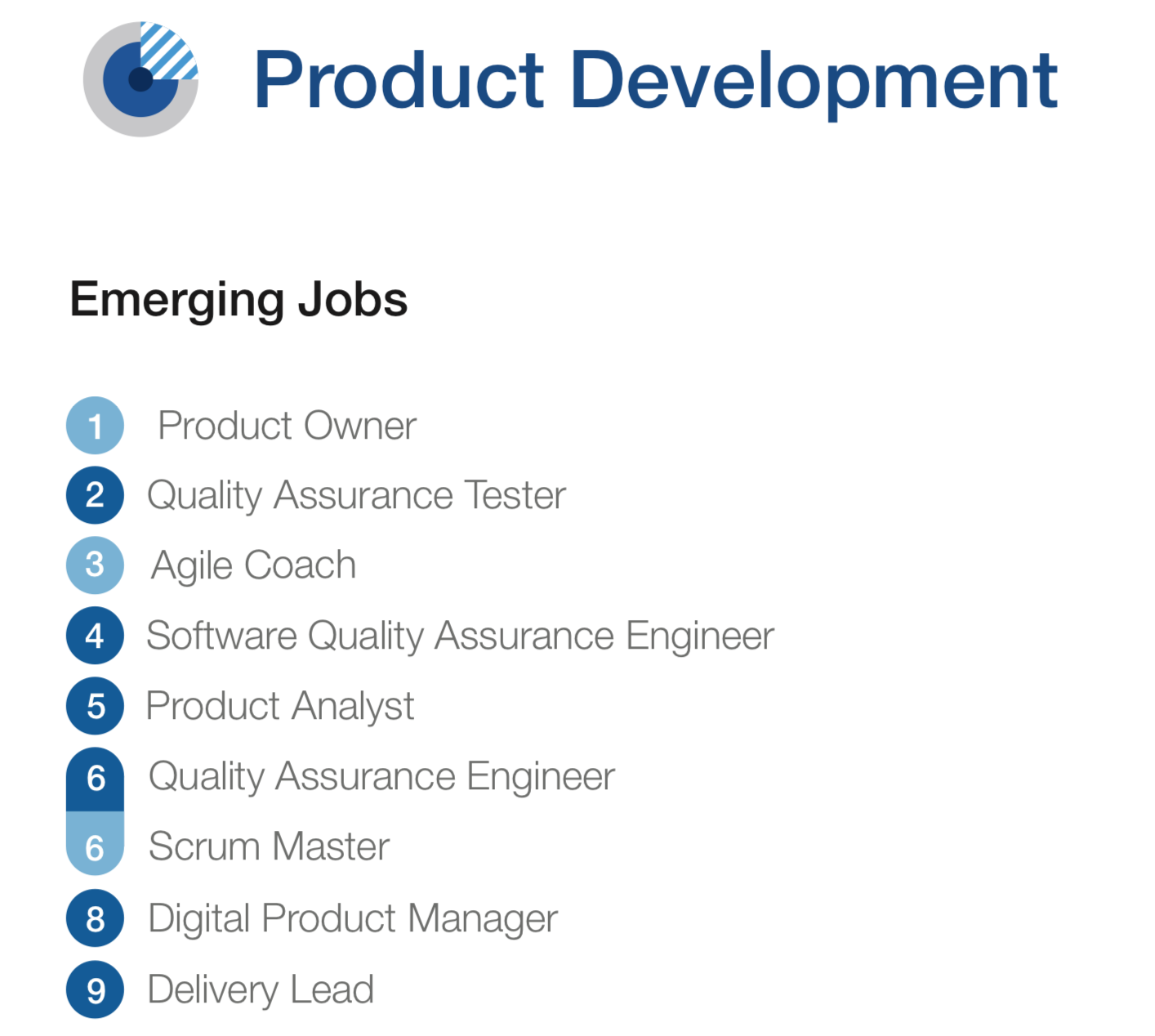 Image from Jobs of Tomorrow: Mapping Opportunity in the New Economy, page 23.
In addition, that same report found that all three Scrum roles are large-scale opportunities (light blue circles), ones that "present more than 5,000 job postings or new hires in any one year" (page 20).
Similarly, LinkedIn's 2020 Emerging Jobs Report has product owner as the #15 job in the U.S. for 2020, with a 24% annual growth (page 21). This isn't the first time an agile or Scrum role has made the LinkedIn rankings. LinkedIn had ScrumMaster as #10 and product owner as #5 on their "Most Promising Jobs of 2019" list. In 2020, LinkedIn also named agile coach a growing role in Germany. (That same report mused that "The fact that the profession of agile coach is growing in Germany could indicate a development in the direction of flatter structures.")
Scrum Alliance CPO Howard Sublett had this to say about the findings: "People want their work to matter, to have direct influence on the outcome of the products that people use. This is one reason why so many people seek out roles in companies that organize their work in Scrum teams. It's a perfect match—people who want to make a difference and companies that want to delight customers and have engaged employees."
These results suggest a clear career growth path as well. Because all three roles are in demand, people can start as a Scrum Master or product owner and grow to become an agile coach through experience, training, and mentoring.
Agile Skills in High Demand
But it's not just the jobs themselves that are in demand, it's the skill sets behind those jobs that employers are seeking. LinkedIn reports that employers are looking for the soft skills of "creativity, persuasion, collaboration, adaptability, and time management." Every single one of these skills is crucial for a high-performing agile team, and especially for Scrum Masters. The World Economic Report found similar needs among its highest-demand skills, especially in the need for a blend of technical and cross-functional skills, and the importance of human interaction in delivering new services and products to customers.
Sublett said, "One of the reasons I get up every day so passionate about my job is that I believe in the learning journey Scrum Alliance has been providing since 2001, from people who are just learning what it means to be agile (Certified ScrumMaster®) to people who are ready to teach and guide others in becoming more agile (Certified Scrum Trainer® and Certified Agile CoachSM). And the fact that we're nonprofit means we get to invest in our community: user groups, global events, regional gatherings, webinars, resources, and so much more."
If you'd like to learn more about Scrum, try our free eLearning course: Scrum Fundamentals. Plus, it's a great way to get a taste of Scrum to see if the Certified ScrumMaster or Certified Scrum Product Owner journey is right for you.